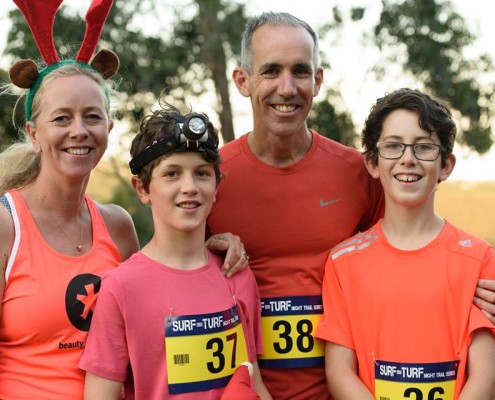 BEXI is a way of life not just an exercise class…
From joining her first learn-to-run 5km-FIT session in the pouring rain, with thunder and lightning, Katie knew she had what it took to succeed! She teamed up with fellow 5km-FIT buddy Melanie, and Michelle who was training for the NY Marathon.
They soon became very good running buddies – meeting up weekly to complete their training session… organising homework sessions… getting stronger… running further… smiling… laughing… and forming a true BEXI bond. The three buddies relied on each other for support and inspiration along the way, particularly when the other was not having a good day. They completed their program and achieved their goal of running their first 5km parkrun (& Michelle, her NY Marathon).
Katie has embraced her new-found love for running and added strength training and interval training to her activities. Hubby Ed is super-proud of her achievements. If asked earlier this year if Katie would be running 5km, he would have laughed and said: "Not my Katie!".
In Katie's words:
It's hard to put into words but BEXI has transformed me in so many ways.  I can now run … I'm a runner!!  I'm feeling stronger, fitter and healthier; physically and mentally. Debbie is always challenging us for the better, sharing recipes and inspiring us and keeping us on our toes. But more than the exercise is the community of BEXI. It's like an extended family, everyone is friendly, like-minded, inspiring and motivating.
Katie has her sights on her first half-marathon n 2016 – hopefully running with her hubby Ed, and sons Will and Tom. We cannot wait to support and cheer her along the way.
Huge congrats on achieving our Best Beginner Runner in 2015.  Look forward to many more successes in 2016 – go Katie!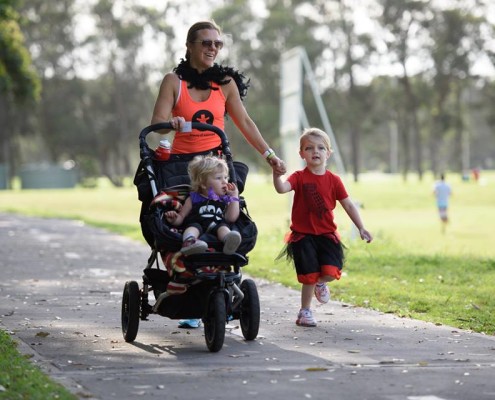 Never give up on your dreams…
When Inger was young she had three open heart operations and was lucky to have survived. She went on to have a happy childhood with frequent check ups and coping with asthma.
In her teenage years however, Inger became anorexic and at one point was as low as 38kg, hating her body and food. Over time, both weight and food were a constant battle until she met her darling husband in London.
They settled back in Sydney in 2004 and married hoping to have children. By the time Inger turned 29, some years later, she decided to start IVF. When that didn't work initially a friend persuaded her to join a gym. Hoping getting fitter would help, Inger started regular spin classes and loved it! Sadly though, with the next round of IVF treatments the steroids and injections were affecting her weight.
However, after much perseverance and several more rounds of IVF it happened! Inger was pregnant and had a beautiful baby girl, Jazmin. Post-pregnancy, Inger was back to her heaviest weight and went through it all again with trying for her next baby.
After the roller coaster of IVF attempts and pregnancies, Inger wanted to get fit again and had the urge to run. She entered the City to Surf and tried to run by herself but just couldn't stay motivated. In September 2014 she found Beauty of Exercise and joined the 5km-FIT running program. This group of women inspired her so much! She has found it to be a huge emotional journey in terms of self-belief and goal setting – there literally is no holding this girl back now!
Inger is currently training for The Sun Run from Dee Why to Manly at the end of January and will soon be starting her training for the Canberra Half-Marathon. Recently Inger shared that she is the fittest she has ever been, and even more importantly, the HAPPIEST.
So proud of this amazing woman!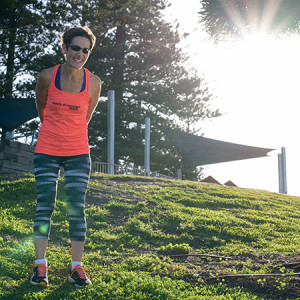 From injured to invincible…
After breaking her ankle at the end of 2013, Amanda joined Beauty of Exercise to rebuild her strength and improve her fitness.
Training was steady to start, which progressively built over the coming months.  Amanda was super-committed to her training and attended 4 classes each week, never missing a class!
She signed up her hubby and 2 teenage sons to train for the Pub2Pub Fun Run in Aug 2014, which they successfully completed together. (Great parent role models!)
Over the subsequent months, Amanda's running propelled to the next level – as a result of consistent, solid training and weekly 5km tempo runs at Curl Curl parkrun. Amanda recently achieved first female runner at parkrun with a very impressive time.
Without a doubt, one of the most sincere, humble and modest person's around. Amanda is a quiet achiever and has earned the respect and admiration by the entire Beauty of Exercise community. She is an inspiration to all of us and will always make sure those around her succeed!
Amanda is currently training for her first half-marathon in April 2015 – we are very excited for her.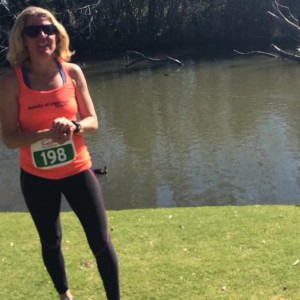 No stopping this mum of four…
Felicity is one of our original founding members. She joined our second 5km-FIT, beginners run program, back in 2012 and has literally not stopped since.
Diagnosed with Multiple Sclerosis (MS) nine years ago, Felicity was told that she would never run. But being the determined lady that she is, Felicity defied odds and focused her energy on improving her health and fitness.
Slightly overweight to start, Felicity successfully completed the 12WBT program, losing 12kgs and committed to training 4 times a week. Her fitness improved immensely as her weight slipped off the scales, and soon Felicity was completing regular parkruns and various fun runs.
A very busy mum-of-four, Felicity constantly strives to set a good example for her family. Over the past couple of years Felicity has run various community fun runs with her family – including Pub2Pub, Bridge Run, MS Fun Run and Mudgee Running Festival to mention a few. On a personal level, Felicity has completed 3 half-marathons – a huge achievement!
Felicity is a valued and respected member of our community. She inspires all those around her by constantly proving that we can achieve anything if we set our minds to it. A true role-model for all of us!