My motto is 'Feel the fear… but do it anyway!'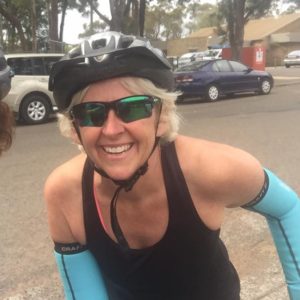 Andrea's fitness career started in her 40's! Prior to that she was a hairdresser for 24 years, overweight, big smoker 20+ cigarettes a day, and never did a day of exercise!
At 40 she ran her first distance of 50 yards for a taxi, and nearly passed out! At which point, her 5yr old son sat in the taxi, looked at her and said, "Mummy you're fat and you can't breathe". Andrea will never forget that moment – that was her wake-up call.
It was the start of her health & fitness journey – cigarettes went, exercise began, and feeling great followed. She went on to change her career and became a group fitness instructor, followed by a personal trainer. Her reward is helping others make what they think is the impossible – "I can't do that!" – into wow I can do that.
Andrea feels that you don't have to be an athlete to take part. Set goals, achieve them – but most of all enjoy the journey.  Surround yourself with positive people on a similar journey to you, and you will achieve.